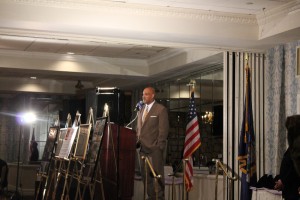 As the founder and CEO/President of Community Wellness Centers of America LLC (CWCOA) and Equinox Electronic Medical Records (EMR), Dr. Robert Evans is working towards organizing and delivering required healthcare services in under-served communities that otherwise would be neglected.
As a medical physician and long time community activist, Dr. Evans understands the resources and programs required to address chronic illnesses through preventive programs, which are often absent from minority communities.
Dr. Evans has developed his companies with a primary mission to deliver state-of-the-art health programs and services, improve healthcare outcomes in under–served communities, and collaborate with hospital systems, physicians, and ancillary healthcare services. All of these steps will help to create a coordinated healthcare delivery system to provide equality in healthcare for residents through increased emphasis on prevention.
CWCOA's goal is to improve the overall health and welfare status of the residents of Rochdale Village and Jamaica, Queens and insure that the residents receive comprehensive and state-of-the-art healthcare services, including an increased emphasis on health prevention programs that broad-based prevention programs cannot address.
Dr. Evans's healthcare delivery model is designed to focus on preventative diagnosis and treatment resulting in a healthier population that also reduces health care costs and creates a positive return on the community's investment.
Through Dr. Evans's concerted efforts, CWCOA will provides government-certified healthcare technologies through Equinox with an Electronic Medical Record (EMR) system — a comprehensive technological platform that supports all healthcare initiatives in the community – which will be fully integrated for record-sharing with any hospital or healthcare organization,  physician, medical support service organization  and  fully compliant on the State and Federal level.
Dr. Evans introduction and  of an Electronic Medical Record (EMR) in under-served communities will allow all healthcare providers, regardless of location, to monitor and review clinical information, prescribe prescription with up-to-date complete medical information, review images from a radiology system, or document a clinical visit electronically.
The data entry modules will allow for quick documentation either by dictation, voice recognition, or by the use of templates or forms. The technology integration component has been proven to increase healthcare quality and improve the well being of patients being treated with accurate information which helps reduce medical errors.
Currently, CWCOA is working to build the infrastructure for an Accountable Care Organization (ACO) to provide efficient, integrated quality care by sharing data and coordinating care across the provider network.  This information will be integrated in conjunction with bioscience initiatives, which will also help reduce healthcare costs, improve the health of the population, and provide employment opportunities for communities.
Dr. Evans is a strong advocate of bringing a comprehensive and coordinated healthcare delivery model program into the community. Recently, Dr.  Evans received a New York State Proclamation presented by Senator Shirley Huntley for his ongoing and tireless efforts to increases  the quality of Healthcare and eventually eliminate healthcare disparities prevalent in Jamaica Queens. Dr Evans also hopes to work to bring this program to other under-served communities in New York State, and eventually to other States throughout the country.